James Ensor,   Edvard Munch
The idea of individuality in art, brought on by Matisse saying that an artist is responsible for his own feelings and expressing them according to his own rules, together with the influence of Van Gogh and Gauguin, the recognition at the time of the breakdown in social traditions, and the approach of war, caused a strong move towards Expressionism in art in Europe.  In Expressionism its hard to separate art from life, because good art always reflects life.

The Intrigue – Ensor 1890
Ensor was Belgian – his early works were Impressionistic, with his use of colour and brushstrokes, surface texture, and optical considerations.  His subject matter was grotesque and macabre, yet drawn in happy colours.  This tricks the viewer, who is shocked to find skeletons and skulls in his compositions.  This relates back to the moralisers of the 14th, 15th and 16th centuries – like Bosch and Broegel.  Ensor was also a moraliser, suggesting society was a facade over a rotting core.
Munch gave us a personal view based on his unstable life.  He was a critic of modern morality, many of his works depicted negative emotions, and seemed to be extremely violent despite being very controlled.  He took an idea then worked it in different media.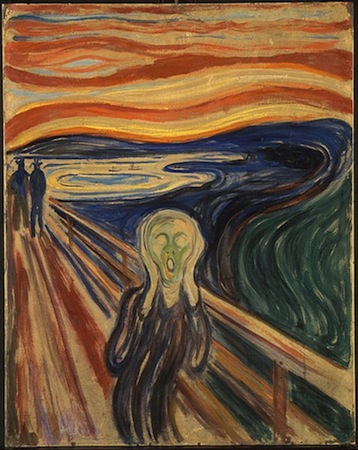 The Scream  –  Munch  –  Despair
He used very swirling, expressive lines, distorted his images, and employed clashing colours.  He had a cold and harsh palette.  His purpose was to demonstrate moods – anger, jealousy, fear, love, silence, anxiety.   His drawings, lithographs, woodcuts, and paintings all followed this idea.
With these precursors of German Expressionism, James Ensor and Edvard Munch, we see Expressionists who tried to record through non-traditional means their reactions to the world situations.  Ensor and Munch tried to express the negative side of life – corruption, decay, unhappiness, jealousy, etc.

The Three Judges – Rouault
Georges Rouault bridged the gap between German and French Expressionism.  He combined subject matter and colour to give us depressing images in light-weight colour.  He was not making subtle innuendos, but comments on religious hypocrisy, the judicial system of his era, the lack of morality – he painted a series on prostitutes, judges and Christ.  His techniques was quite heavy, strong outlines, bold brushstrokes, with light-weight washes, and with shocking imagery.  He was himself – not in any category.
There was a definite sense of artistic freedom, sensitivity, and revolutionary purpose in art in the 20th century, with stronger, more obvious, social commentary.  This can be attributed to the Precursors of German Expressionism – James Ensor and Edvard Munch – and also to Georges Rouault.
Cirque de l'etoile filante – Rouault
All art is political in that it represents the dominant ideologies of culture.  When art criticizes that ideology it becomes revolutionary – it times are ugly or confused, so the artwork of that time will appear to be ugly or confused.
See Expressionists – Max Beckman, George Greosz, and Kathe Kollwitz.
NB:  If you choose to quote from this blog please cite its URL in your Bibliography.
Jud House   15/09/2016
. . . . .