CHARACTERISTICS OF IMPRESSIONISM.

Landscape near Montecarlo – Monet
Shows pure colour straight from tubes onto canvas.
  The use of pure colour – paint straight out of tubes onto canvas, altered/mixed/blended on canvas not on palette – broken colour technique, with high key colours, high intensity.
    Brushwork showed – not smoothed over when finished, giving a texture to the work.
    Instantaneous affect – sense of capturing an instant, e.g. moment of sunburst through clouds onto road – showing constant changes of atmosphere.
    Sense of spontaneity – first painting was the final painting, with no follow-up in the studio –  they aimed for spontaneous reactions between the art, the artist and the subject.
    They painted on a white canvas – there was no underpainting in sepia tones   – they allowed the white canvas to show through transparent colours giving a bright high-intensity, and sometimes left the canvas bare as part of the whole visual.
    Painting outside on location – au plein air (in the open air) – real atmosphere captured out of doors, instead of painting in the studios from notes, to accentuate the ways of nature.
    Use of colour in shadows – they showed colours that reflect on one another, the shadows tending to be the contrast of the subject colour.  True to real life, they used black as an accent colour – black exists in life.
    The subject matter was everyday scenes – was happy generic secens, with no narrative, no religious or moral message which was considered revolutionary.
    Composition – often asymmetrically balanced with no focal point or from unusual view points – no longer traditional, although not necessarily open, but often not closed, e.g. keyhole affect, cut-off compositions that took a slice of life.  They showed the influence of photography, breaking off the image where the artist chose, not according to design principles.
    Understanding of optical sciences – they learnt how the eye saw, understood properties of light (refraction, spectrum etc) and reflection, how light affects the perception of colour, to create works that were visually stimulating.
   Portable paintings – size was no longer a priority – they could be as small as the artist wanted – to go on the walls of the middle class's homes.
ARTISTIC CAUSES OF IMPRESSIONISM.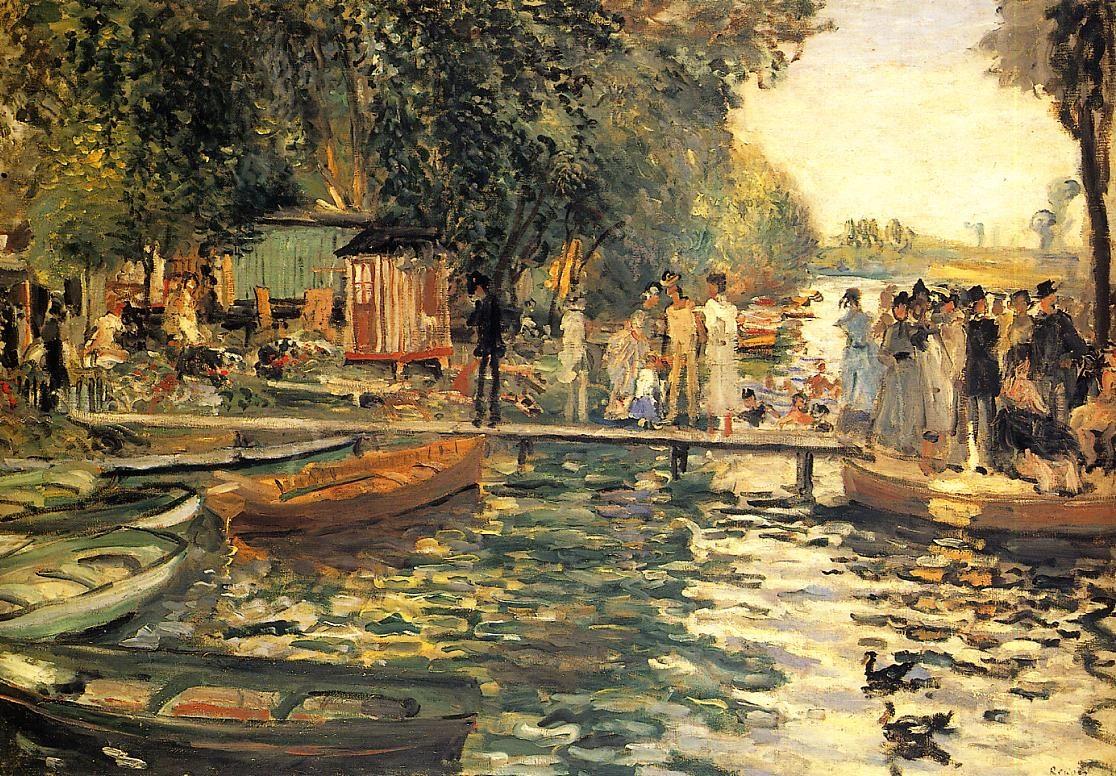 Monet – La Grenouillere – Renoir
Shows use of new ferule brushes to create light strokes on water.
  The invention of the camera – this freed artists from having to paint pictures that recorded events and people, both religious scenes and historically.  The camera could make pictures now,so they could make paintings – a strong reason for change.
    Chemically produced paints – these were available in tubes which the artist could take out into the field.  These were produced in factories, eliminating the vagaries of colour-mixing by the artists, and gave brighter colours, and new colours, e.g. chrome orange.
    Ferule (rectangular metal clamp) was added to brushes – factory made – allowing for ease of portability – producing flat, small through to large brushstrokes, lines and slashes on the canvas as part of the final image.
    Sense of Modernism – rejection of pseudo-sophisticates (gallery owners etc.) who kept control over art.  Marxist principles of equality, revolting against political and artistic regimes.
    Japanese prints (Ukiyo-e) – a school of printmaking in Tokyo came through to Europe as wrapping paper around artifacts – showed a pleasing use of line and broad areas of colour, with flat images with no depth or true perspective.  They had flat bold decorative pattern-making with simple subject matter, e.g. geisha girls in gardens, and landscapes with atmosphere.
    Recognition of the 2-Dimension of the picture plane – why bother making a 2D surface into a 3D image – rather use and accept 2D surface to make painting on.  Understanding the limits of their medium, instead of imitating reality they made visually stimulating paintings, by arranging colour, shape and line to create a pattern.
    Courage to change – it took great courage to fight the establishment – to dare to be different, to turn their backs on what was accepted.
ARTISTIC AFFECTS OF IMPRESSIONISM.

Two Young Girls Playing the Piano – Renoir
Shows two styles for same subject.
    Beginnings of Abstraction – recognised 2D surfaces, first by breaking volumetric subjects down to dobs of light – broken colour technique – Pointillism an immediate abstraction.
    Better understanding of medium and works – made quantum emotional leap, with more effective use of medium.
    Individuality of artist became important – Renoir served as a porcelain painter, painted through to Pointillism then back again to show volume of his subjects – not following set rules, but his own.  Multiplicity of styles within Impressionism, credited to innovations in art.
    Sense of intuitive discoveries as a result of multiplicity of styles and individuality – allowing freedom of intuitive creativity.
    Emancipation of colour – was most important affect.  It was used for description for too long – now they used arbitrary colour, putting colours where they were found only for an instant, e.g. pink in haystack.  They liberated colour – it was developed not just as a part of the painting, but became the painting itself.
    Small portable paintings were produced instead of large works.  This helped make the Impressionists popular during their own lifetimes.
They all learnt from each other.
(C) Jud House   8/09/2016
. . . . .