From 1840 – 1870, Art was related to political idealogy.  In 1874 the Impressionists had their first exhibition which was not well received by the Academie.  Claude Money, Alfre Sisley, and Camille Pissaro were true Impressionists.

Les Meules 1891 – Monet – same scene, different light.
Claude Monet was a pure Impressionist, producing paintings rather than pictures, and was known as the poet of light.  He was intrigued with the surface of the painting, of the canvas, and created tactile paintings, concentrating on the light on the subject rather than the subject itself.  He was fascinated by the constant shifts and changes of the light, and painted in series, e.g. haystacks, Rouen Cathedral, and waterlilies, to show the difference in light on the same subject.  His use of colour holds his works together – there was no underpainting – just pure colour onto canvas.  He created tonal rhythmic compositions which were the forerunners of abstraction.  He was more interested in painting the tonal light shining off the haystack than the haystack itself, in many cases to the point of dismissing the subject structure altogether, becoming merely paint on canvas.  His techniques were quick and spontaneous, with the colours mixed on the canvas.

Village of Voisins – Sisley – Rue de la machine Louvenciennes
Alfred Sisley was strongly influenced by Turner and Constable for their portrayal of light and atmospherics.  He painted landscapes, using linear and atmospheric perspectives to take the viewer deep into the painting to the horizon.  His strength of definition was colour and technique, he translated his subject matter into colour, and used good design principles.
Camille Pissaro painted landscapes and street scenes from unusual viewpoints, often high.  His work is easy to identify as he would section off his paintings using strong verticals, and creating frames within frames, e.g. by using street lamps, trees.  He used pure unmixed paint direct onto the canvas to create a sparkling effect of light, with quick application, using short and bold dobs and brushstrokes which evolved into Pointillism.  (Divisionalism put red next to yellow so that the eye would perceive orange.)  He used this technique to capture the spontaneity  of movement, which was used by most Impressionists.

The Apple Seller – Renoir
Pierre-August Renoir was an expert colourist, with a sundrenched palette, using delicate hues, everyday subjects, happy compositions, and warm luminous glazes to take him away from reworked paintings to spontaneity – to let his work evolve.  He was influenced by Rubens, and later brought volume and realism to his works.

Dancers in Pink – Degas
Edgar Degas was especially impressionistic in his pastel works.  He preferred genre scenes to landscapes, with his works mainly done indoors, and using unusual viewpoints.  He was not interested in the beauty of the dancers or horses but rather in the movements, capturing different poses of both before the dance or race.  He often mixed his media, using watercolour with pastels and charcoal.  He was influenced by Japanese prints and photography.  He used bright colour, and exhibited with the Impressionists, but was not really revolutionary.  Often cut off his paintings in odd places, and featured large blank areas, e.g.stage with dancers to the left and right.

Mother and Child – Cassatt;    In the Dining Room – Morisot
Mary Cassatt and Berthe Morrisot both painted domestic scenes, genre scenes – but they were not taken really seriously because they were women – both gave up serious painting when they married, to raise their families as good women should – at the time in history.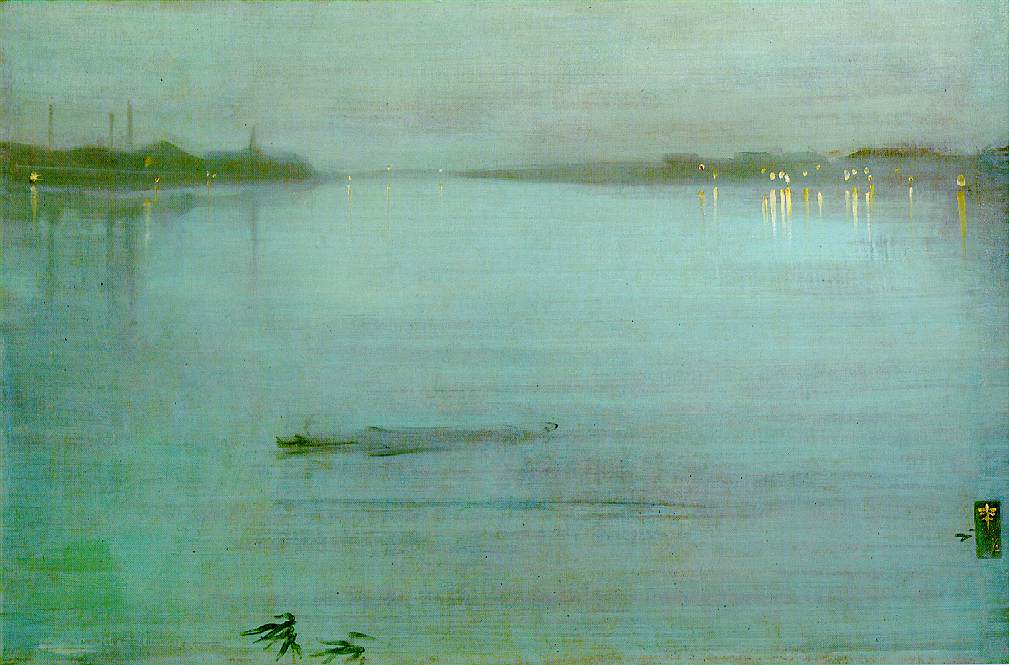 Nocturne (Thames at Battersea) – Whistler – Nocturne blue and silver
(Cremorne Lights 1872)
James Whistler and Henri Toulouse-Lautrec were greatly influenced by the ideals of the Impressionists, and their works all have characteristics of Impressionism, although they were not dedicated Impressionists.
Whistler painted tonal paintings which he titled after musical works, e.g. sonata, etc, with highly original figures and landscapes.  He did not paint imagery but tonal variations, maintaining harmony between tones.  (Colourists know how to use every hue to its best advantage.)  He created patterns and colours silhouetted against plain backgrounds – oriental influence.

Wiki Salon at the Rue des Moulins 1894 – Toulouse-Lautrec
Toulouse-Lautrec was a Lithographer, and master craftsman, strongly influenced by Japanese prints.  He used flat bold colour, flat shapes and expressive line, both calligraphic and contour.  He was also influenced by Degas, with cut-off compositions, unusual view-points and interest in the character of the subjects.  He captured the gestures and poses of figures, as a characaturist or portrait painter would, using the body language of the figure.  He never made social criticism – they were just subjects to him.
(C)  Jud House  8/09/2016
. . . . .